We earn commission for qualified purchases at no extra cost to you.
Finding the perfect all wood tortilla press doesn't need to be a chore. The device, while simple, should exhibit a few key features that we will go over in detail here.
Wood tortilla presses appearing in this guide
We've all had a perfect tortilla at one point in our lives, and I can guarantee it didn't come out of some package. The tortilla that you remember so vividly completing your taco was most likely hand made. Pressed to perfection in a classic wood tortilla maker.
Some key features to look for in a tortilla press
Besides looking nice (we've got you covered there), you will want to make sure you get an even press, and an ergonomic design to stop wrist and hand fatigue. This all comes down to thoughtful design and a good, solid construction.
Cast iron (or metal) tortilla press issues to watch for
There are many options out there, with most modern tortilla presses made of cast iron. Now, you'd think these would be ideal, I mean, they're metal. Right? Unfortunately we've found the majority of modern cast iron tortilla presses are poorly made. The poor construction is used to bring cost down, leaving you with a wobbly and inconsistent tortilla press. Or worse, the cheap ones will even use sub-par iron leading to situations like this: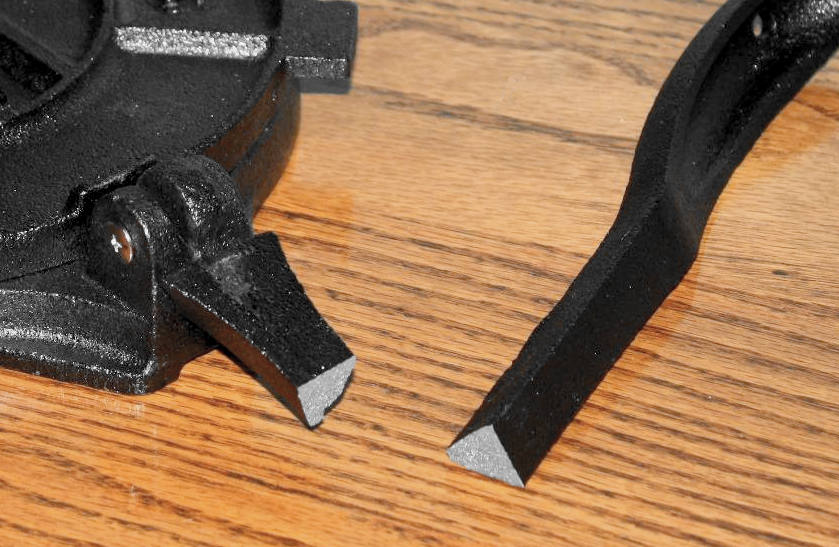 When the handle breaks, that's a serious recipe for disaster, and most likely a bloody knuckle or two.
Wood tortilla press issues to watch for
A lot of wood tortilla presses are not much better. The major pitfall that we see with them is the use of soft woods, leading to (again) broken handles, or hinges falling off. This is why you'll want to find a wood press made of all natural hardwood, like oak, walnut, or in the case of some of our picks, both!
Another thing that most buyers overlook is the point at which the pressure is being applied to the plate. The closer this point is to the end of the handle (where you hold it), the more pressure you will need to apply to get a nice flat tortilla. Moving this point further away from the end of the handle will make pressing a breeze. Take note of our wooden picks below and you will notice the lever meets the pressing-plate at the very edge. A press so simple a child could use it.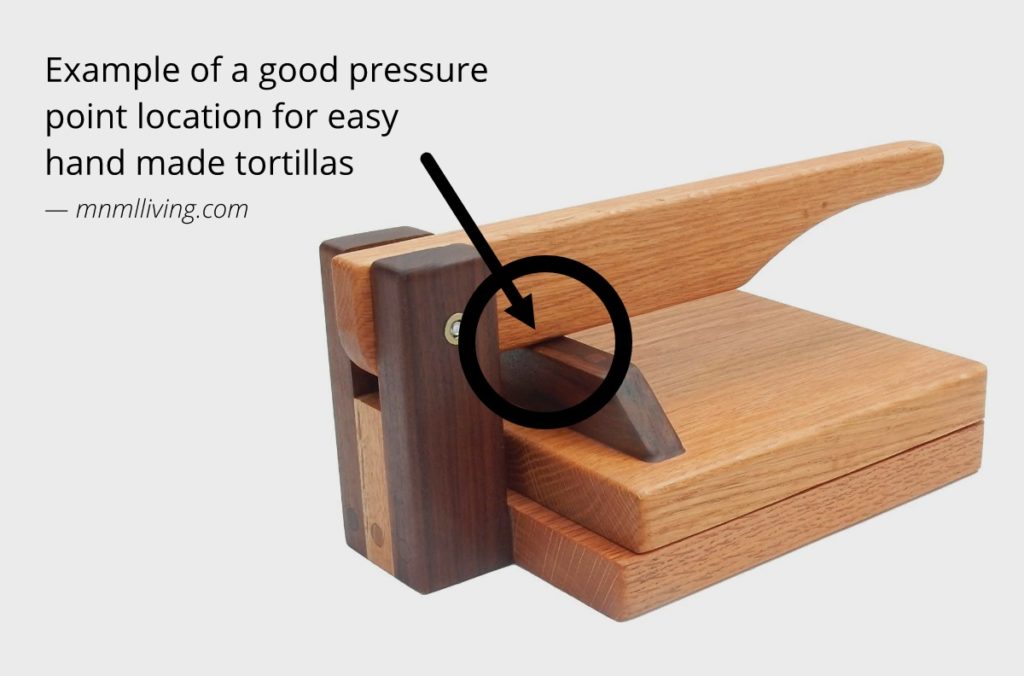 The best wooden tortilla press
When buying a quality wooden tortilla press, look no further than those hand crafted by Central Coast Woodworking.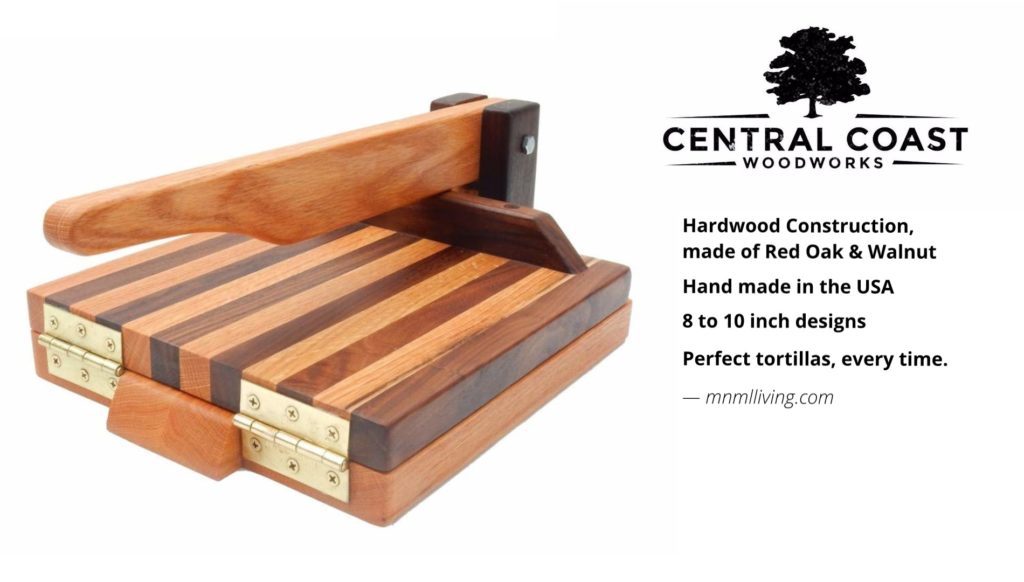 These classic wood tortilla presses are all hand made in a small home work shop on the central coast of California, designed by a craftsman who knows what he's doing. Constructed with hardwood materials like oak and walnut, you will not need to worry about breakage. The simple design is effective, and you can count on perfect tortillas with minimal effort every time.
Beyond the classic look and feel, subtle aspects of the design were considered when making this press. Things like the grain of the wood carefully aligned to withstand the downward force while your tortilla is being pressed. It's this sort of attention to small details that make for a safe and beautiful countertop item.
Operating an all-wood tortilla press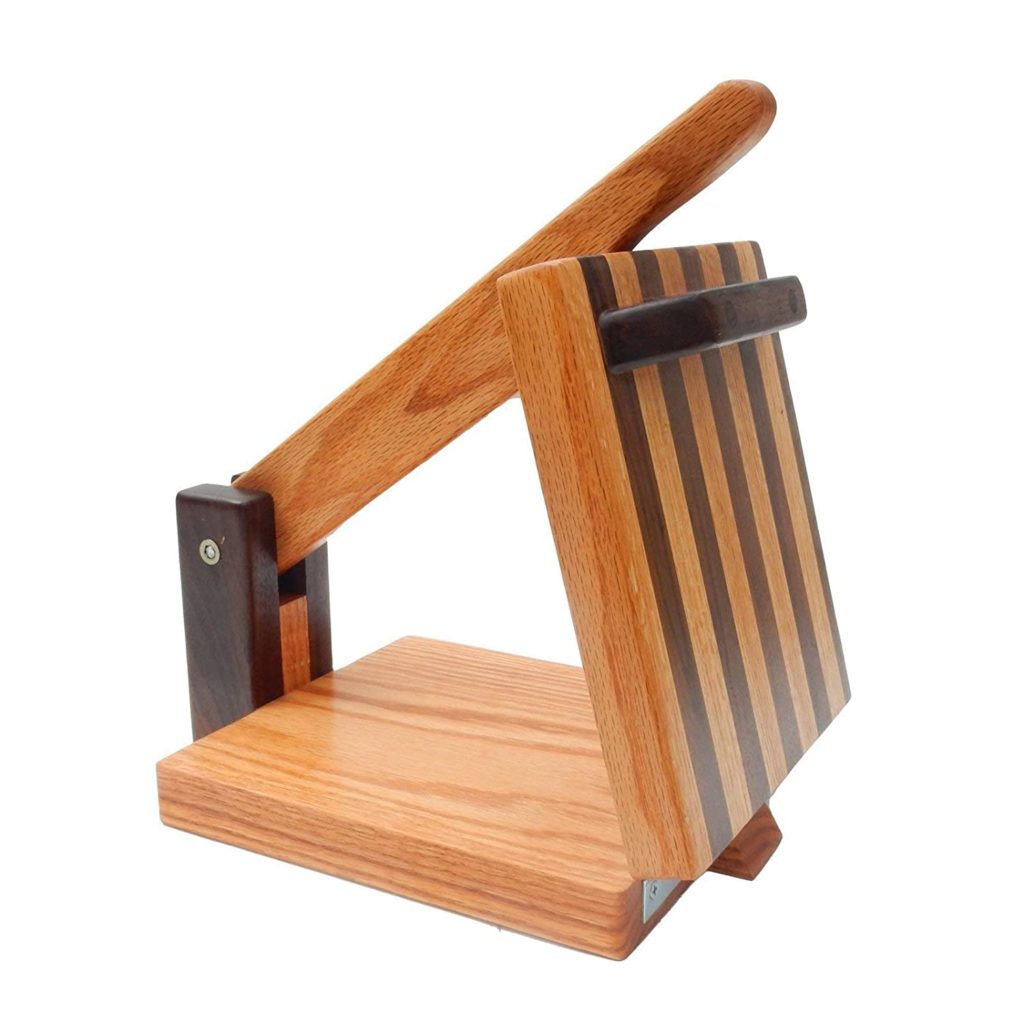 Using the wood tortilla press from Central Coast Woodworking is a breeze. Simply lift the handle, then lift the top plate. You can then rest the plate on the handle as pictured above. This allows you to slide your tortilla dough in, drop the top and press.
But wait! Before you throw your ball of tortilla dough on there and press it let's protect the wood finish, and make cleanup a little easier by putting some parchment paper in between.
Pre-cut round pieces of parchment paper are sold online, but in our opinion these are not necessary. If you have a standard roll of parchment paper, simply cut a sheet double the size of the plate, put your dough in the middle, fold it over and press.
Good cast iron options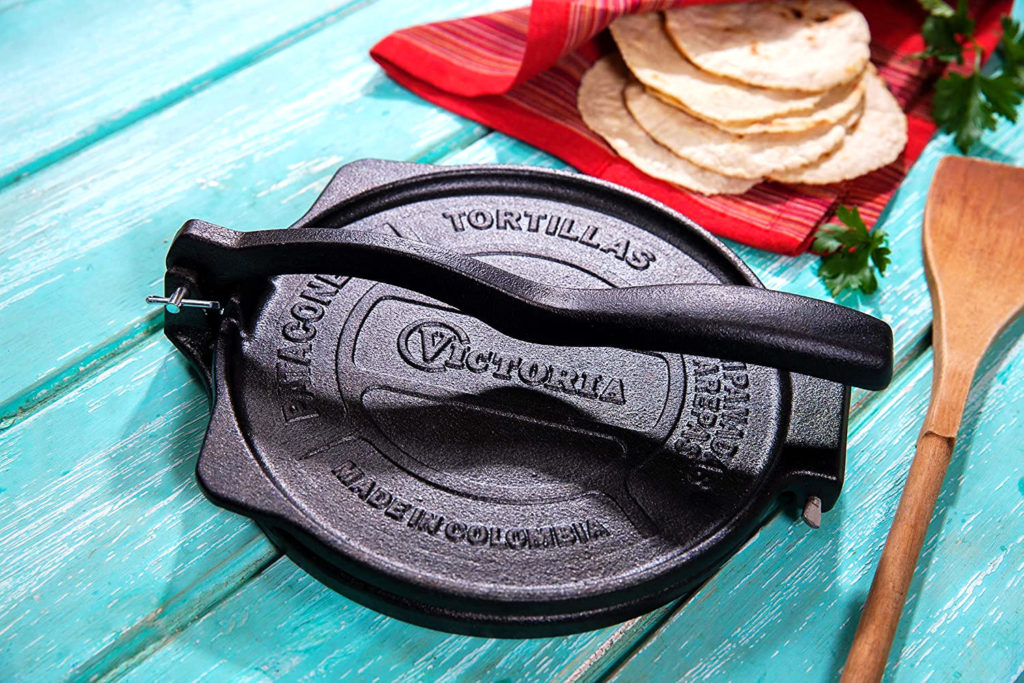 We had mentioned above that most modern cast iron tortilla presses are cheaply made, and prone to breaking. But the recently re-designed Heavy Duty Victoria 8 Inch Cast Iron Tortilla Press is the exception.
Special attention has been placed on the handle of this press, which is arguably one of the most important aspects of any tortilla press. The ergonomic design will help cut down on fatigue when pressing large numbers of tortillas for your next taco Tuesday party.
Even more importantly, you don't need to worry about the handle breaking. After years of research Victoria created a proprietary iron blend specifically designed to stop breakage. An added benefit to the new iron used for this heavy duty press is it's actually lighter in weight. Again, another serious benefit when making large numbers of tortillas at a time.
One thing to note about this press is the pressure point is in the middle of this handle. So you will need to put a little more effort into this than our wood picks above.
Learn something today?
We'd really appreciate you sharing this article with friends on any of your social media channels. Yes, helping others can be that easy 🙂
Find this post useful? PIN IT to your Home & Kitchen board on Pinterest!