In this guide we cover the top modern fire pits for outdoor living, but with two constrains.
The fire pit must be smokeless.
It must be able to burn any wood log, as well as manufactured eco-logs.
Smokeless wood burning fire pits appearing in this guide
We earn commission for qualified purchases at no extra cost to you.
Few things beat the sound of a crackling wood fire under the stars. But you may be weary of a wood burning fire pit because you know what that entails (smoke). But don't worry! There have been some unique designs that minimize and even eliminate smoke in recent years, let's look at them.
The original BREEO smokeless fire pit (and grill)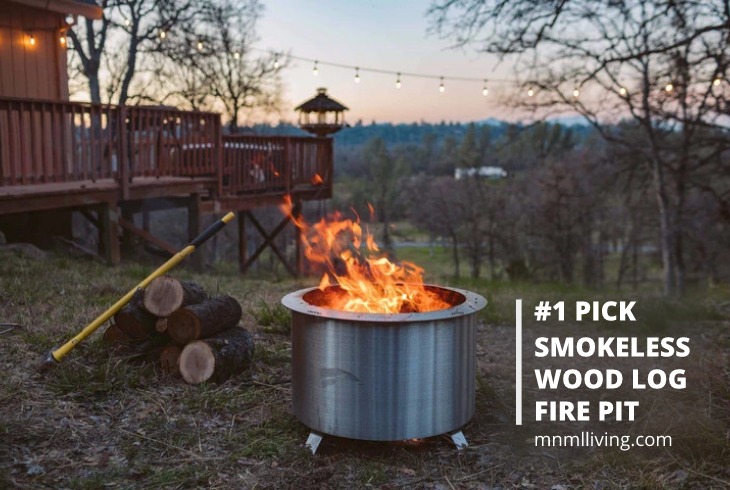 The Double Flame by BREEO is our favorite smokeless fire pit because of it's versatility. This wood burning outdoor fire pit comes in a minimalist stainless steel design that will fit most modern back yard motifs. The flared top edge lends itself perfectly to building this into a brick, stone, or a cement facade. Best of all, these fire pits are designed and made in the USA with no a frill technology for a clean burning fire.
BREEO is the original smokeless fire pit, and the innovation behind it is so simple. No motors, gases, or other extras are used. Cold air is pulled in through the bottom from the heat of your fire, then travels inside the walls of the fire pit where it is heated and then comes out small holes along the top. This is where the magic happens. This hot air actually mixes with and combusts the would-be smoke, effectively re-burning it and minimizing the smoke you see and smell to nearly nothing!
Another notable feature is the ability to turn this fire pit into a grill with an add-on that can be found on the BREEO website.
TIKI Brand smokeless fire pit for wood logs or pellets
The TIKI Brand smokeless fire pit uses a similar technology to the BREEO, but has a few extra features worth noting. First, the most obvious is the classic look. This smokeless fire pit would work great with most modern motifs, especially those located on coastal or lake areas because of the horizontal black steel slats.
Another excellent feature is the ash catch at the bottom. This catch actually pulls out for easy coal and ash disposal.
TIKI recommends using their wood pellets with this fire pit. This is not because they burn any better than your own wood logs, but because they are predictable in the amount of time they will burn for. This can be helpful if you are looking to stay out for a set amount of time, and don't want to have to tend a seemingly endless fire. The pellets are a nice option to have, but are not necessary with this pit.
Solo Stove "Bonfire" a smokeless fire pit ready for camp-outs
The Solo Stove "bonfire" is another great choice. It can burn wood logs, and re-burns smoke just like the others. This comes up last on our list simply because we found the design to be less versatile than the other two.
This may work perfectly with your minimalist motif, especially if you've got a lot of stainless steel aspects. Besides the easy clean out system, you will not be missing anything. It also comes in a smaller "Ranger" option which is perfect for traveling with, and it will actually save some money in the end! Smokeless bonfires on the beach? Sign me up.
Well that does it.
With this range of the very best smokeless fire pits, we know you'll find the one that fits your particular need. Your hair and clothes will thank us later.
Find this post useful? PIN IT to your Outdoor board on Pinterest!